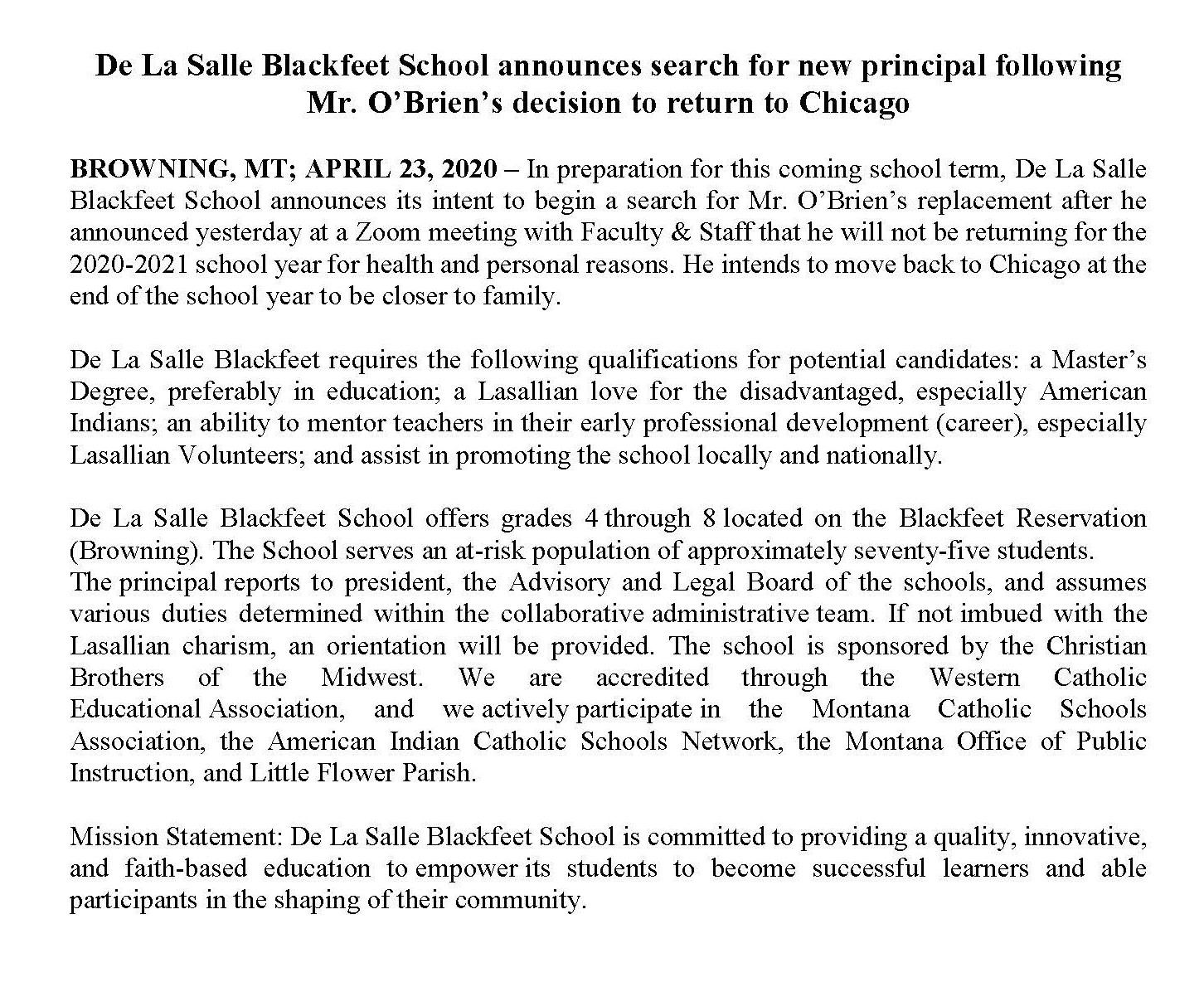 ---
---
Check out our Newsletters!
DE LA SALLE BLACKFEET SCHOOL
POSITION: School Guidance Counselor
DATE POSTED: July 21, 2022
OVERVIEW:
The School Guidance Counselor of De La Salle Blackfeet School is an integral component of the administrative team. Said team's membership is determined on an as-needed basis, but frequently will include the following: The President, Director of Development, IT Director, Bookkeeper and/or School Counselor. A collaborative environment is essential to provide a structure that has the support and compliance of the different entities in this De La Salle ministry.
The School Guidance Counselor, along with the administrative team, provides the necessary support for the school's day to day operations. He/she is directly responsible to the President of the school. The primary responsibilities for this position includes emotional support of students, staff, and families and progress in addressing the historical and cultural trauma that impacts students lives and development. This person should have knowledge of Trauma Informed Teaching, Social Emotional Learning and Adverse Childhood Experiences (ACE). It is also important that the person enjoys working with adolescents and involves the family in supporting the students-client. The person reports directly to a designated person in the Leadership Team and files timely reports for the administration.
As a Lasallian ministry, the principal will be expected to immerse himself/herself in the specific charism of the Institute and nurture the same in every element of the school. He/she will attend, where possible, the programs offered by the Lasallian Family to be fully prepared to put into practice Lasallian pedagogy, philosophy, and spirituality. Furthermore the school guidance counselor will fully cooperate with various organizations that permit the holistic development of the Blackfeet children that God has entrusted to our care.
RESPONSIBILITIES:
Among the responsibilities of this position includes the following, but the list is not all inclusive:
Staff:
Collaborate with staff to support students
Prepare and organize, with Leadership Team, appropriate professional development
Be available to attend daily faculty PLC meetings along with staff input
Coordinate with Leadership Team pertinent student and family issues
Students:
Make daily sessions with students to develop their coping strategies
Plan parental meetings with a staff member when deemed helpful
Receive and facilitate parental concerns where warranted
Facilitate meetings for corrective behavior and developing coping strategies for students
QUALIFICATIONS:
A Master's degree in a Counseling related field is preferred, such as a Licensed Clinical Social Worker, Licensed Professional Counselor, Child Psychologist, Masters in Social Work or a comparable degree.
Knowledge of Trauma Informed Teaching, Social Emotional Learning and Adverse Childhood Experiences (ACE)